Latest Update
Edit
8/17
2/17
2/1 Valentine's Day Event
1/16
7/16
6/14
5/31
5/14 United Force:Black Nagoya Castle Turbulent
9/30
8/13
7/31
7/16
6/29
Added Gacha System
Added Medal Exchange System
Added Rarity System

Shirohime with 30 mins Build duration -> N
Shirohime with 1 Hour Build duration -> R
Shirohime with 2 Hours Build duration -> HR
Shirohime with 4 Hours Build duration -> SR
Shirohime with 12 Hours Build duration -> SSR

Facility and Shirohime Build System Revamped
Limited Shirohime from gacha system
Summer War Festival! Turbulent Swimsuit Event Started
6/25
6/16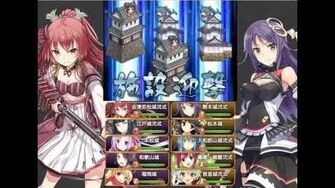 6/9
5/28
New Castle : Maruoka
Quest System Tweaked

Quest will be taken automatically

PvP system will be changed
Troops System Tweaked

It has feature to optimize troops by choosing best warlords and facilities
It has feature to check warlord and facilities they equipped

Black Fog of Chaos Event Started
Shimotsuki Tadashi Azuma Event Ended
5/14
5/12
4/30
4/27
4/17
4/9
3/30
Uzuki Special Training Event Started
New Feature: You can select more than one castle for level-up
3 New Shirohime
3/13
3/3
Yayoi Faction War Event Started
New Feature

You can select more than one castle for repair

3 New Shirohime
2/28
New Feature

add option to instantly use instant build
add option to instantly use instant repair
add option to remove all warlord and all facilities on Shirohime
2/24
2/12
1/31
Item for increasing Warlords and facilities max limit sold in item mall
3 New Shirohime :
1/23
1/15
1/13
1/7
12/30
12/24
12/11
12/5
Renovation Material drop rate increased 3 times until 11 December 2014
12/1
4 New Shirohimes and 2 Christmas Event Shirohime added
11/27
Shirohime now can be accessed from PC browser

During 11/27 until 12/11 Resources regen and limit will be doubled
Upgrade timer reduced by 25%
Affairs give more resources

UI tweaking such as:

Quest rewards now show amount of resources/items gained
11/20
Crossover Event Started
New Shirohime
11/5
11/1
New Shirohime
Shirohime Onsen mode is available , need onsen blueprint (cash) and 3000 resources

Kururi
Fukuoka
Yamagata
Wakayama
Hagi
Matsumae
Kubota
10/28
PVE damage tweaking
Added new stage after Aizu-Wakamatsu Castle
New Shirohime
10/14
9/12
8/29
New Campaign: 3 Boxes Campaign

Every day until September 3rd, you may pick either a Red, Gold, or Blue box. These boxes can contain:

500 or 1000 of each material
1 Facility Blueprint
1 Castle Blueprint
1 Overnight Construction Crew

Repair Beacon Campaign

Every day until September 3rd, you can bother (invite) other people on GREE. Every 10 people you bother will earn you 1 Overnight Repair Crew.

Preview of Castles coming in September
Maximum material limit on lord level up is buffed

The amount is still small, but is around the hundreds instead of the tens

Added the material reward to Duty reward list
Pending and invited users do not count towards your friend total anymore
8/27
Apology for downtime and emergency maintenance

Players are awarded 5 Overnight Repair Crew and 1 Castle Blueprint
Players are also awarded 500 of each material5
8/26
Fixing a bug that prevented some players from doing PVP

As compensation, players can claim 1 Overnight Repair Crew and 1 Castle Blueprint on the update pages

Some people are not getting the quest reward for the Duty "武将を3人「従事」させよう".

Players who did not get this reward will be re-rewarded. The items are "Akashi Kuniyuki" and 50 wood.
8/25
Merging chatrooms
Changed menu placements
8/22
Commemoration for 100,000 Players Event (see Current Events page)
8/21
Intimacy is being balanced
Higher intimacy will increase these stats

HP
Melee Attack
Melee Defense
Ranged Attack
Ranged Defense
Speed

Fixing a bug related to Weekly quests resetting daily
Changed the default settings on Sound and Animation
8/19
Added the ability to turn off BGM, SE, and Voice independently
Added battle Graphical Settings

Normal (Everything)
Lightweight (No particle/HP animation)
Discreet (No skill cut-in or particle/HP animation)

Added link to JP wiki in Menu
8/17
Updates to the Duties (quests) Section
Added colored text to distinguish type of Duty

Blue Duties

【一回のみ】

are one-time quests.
Green Duties

【日次】

are daily quests.
Red Duties

【週次】

are weekly quests.

Daily Duties refresh every day at 4:00 AM JST.
Weekly Duties refresh every Monday at 4:00 AM JST.
Official Twitter
Edit
Twitter<script id="twitter-wjs" src="http://platform.twitter.com/widgets.js"></script><script>!function(d,s,id){var js,fjs=d.getElementsByTagName(s)[0],p=/^http:/.test(d.location)?'http':'https';if(!d.getElementById(id)){js=d.createElement(s);js.id=id;js.src=p+"://platform.twitter.com/widgets.js";fjs.parentNode.insertBefore(js,fjs);}}(document,"script","twitter-wjs");</script>