Improvement is a feature which important for this game, to access it:
Improvement consists of 3 main features :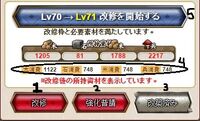 Level up -> Increase level of your castle or facility, they will get additional stats. You can adjust how much resource to use for upgrade (example: your castle need 500 stone for upgrade , but your stone only 400 for now, you can add 400 stone first,then later if you have another 100 stone,you can add it more and it'll upgrade the level)
Fusion -> Combine your castle with another same castle, it will randomly get bonus stats and +1 for every castle combined. Facilities can't be combined
Remodel -> Remodel changes your castles and facilities sprite, also give additional stats. You need renovation materials,resources and level requirement to remodel your castles and facilities. Remodel button will turn gray if your castles or facilities already remodeled or can't be remodeled
Show how much resources needed for level up your castles or facilities
Level up (shortcut) -> same as no.1 but it'll immediately level up your castles or facilities without modify resources used, this menu won't show up if your resources is lacking
Note:
Ad blocker interference detected!
Wikia is a free-to-use site that makes money from advertising. We have a modified experience for viewers using ad blockers

Wikia is not accessible if you've made further modifications. Remove the custom ad blocker rule(s) and the page will load as expected.